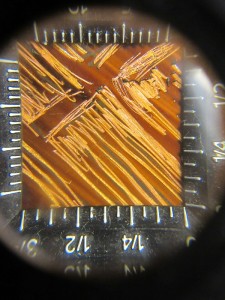 Getting into the zone is already a great thing in terms of making artworks. Above all, staying in it and progressing into a creative flow is something even more special. This sense of accomplishment, of overcoming obstacles, problem solving is art making own nature.
I am so luck to hav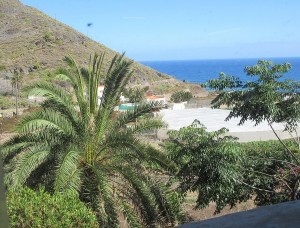 e this opportunity to be coached by Alfonso Crujera, and to have this acquaintanceship with his wife Amparo and his son Helious. Alfonso keeps me constantly motivated. From one experience to another, from one plate to another. Learning new techniques, offering the means to get as close as possible to my artistic intentional. Alfonso Crujera listens. This is way this residency has gotten beyond my expectations. I came to San Felipe looking for further develop my skills on electro-etching and I found not only a complete laboratory on the matter but also a wise and experience coach, an energetic mentor.
The studio is located by the Atlantic ocean. A lookout to the waves and horizon. The marine air is fresh and the aroma of Amparo's garden is everywhere. The hen house at the back of the studio gives the space a country feeling beside the "you cannot get fresher than that" eggs, Amparo gives to me. The studio is next door to the residency apartment giving 24/7 access to its facilities. The ocean view is liberating.
To watch the process of micro dots being attached to the plate is fascinating. On the reverse polarity (cathode – negative polarity) the plate is coated instead of etched, building an embossed image. When the image is not created by removing metal (or corrosion) of the plate the print looks like a broidery, sensed by the touch. Furthermore, plate making by coating the surface requires a particular way of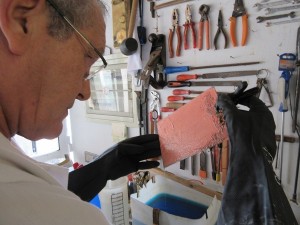 inking and adjusting the presses' pressure. Another way to plate making was creating a Collagraph on a plexiglass. Instructed by Alfonso Crujera, a few steps were taken to build a Galvanograph or also called Galva-Plate. The Galvanographic process makes it possible to create a new copper plate that reproduces in
reverse the image initially made on the plexiglass.
Alfonso Crujera explains this electrolytic procedure to plate making as a process "consisting of a reproduction of a copper or zinc plate via a electrolytic recovery from a mould of the same metal. Connected to the negative pole, it is coated by the metal from the positive pole. The mould is removed and the copper creates a reproduction of the mould, which can be printed in the same way as engraved plates" (my italics) (Crujera, Electro-Etching Handbook: a soft, non-toxic approach," 2013, p.191).
I am on the process of finishing two plates prepared with graphite grounds to create tones. The last week of this residency will be dedicated to photo-electro-etching and to develop a solar plate capturing the Gran Canary brilliant lights.