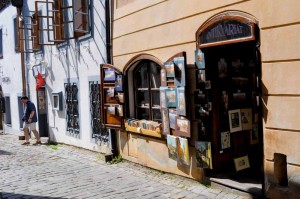 It is like swimming in the open ocean, the intense feeling of expansion. It brings to the surface repressed fears, ignored fears, even unknown fears, such as the fear of freedom. Fear of freedom is the most striking one. Beyond the constrains of language, beyond the constrains of time, all that is left is only being, a suspended silence.
When I first arrived in Krumlov I came across an Antikvariát (used bookstore), where I found English translation of Franz Kafka's 'Meditation.' Kafka had this rare talent to use language to access spaces where there is no language, those peak moments of consciousness that brighten our days. The moments when we are suspended, just there, in the moment.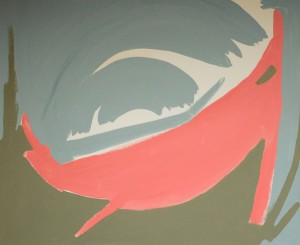 I have interwoven my days reading Kafka and Osho. As a long time Osho's sannyasin— I was 17  when I received my name Ma Prem Nalini— I am used to his voice as I read the transcripts of his talks on Yoga. It is not the same with Kafka. I read Kafka before but it was in Portuguese and at the time Tony was not yet in my life. The fact that Tony is Czech has influenced my choice of Krumlov as the place for my artist retreat. This experience would give me the opportunity to learn more about where he comes from. And, indeed, it has been very enlightening.
By entering the third week of my retreat, the sensation is that I am in a differentiated state of being. The connection between my hands, my thoughts and each brushstroke is now deliberate and fluid. Although, I know I am not in the "Zone" yet, as a matter of saying. But, at least I feel I am moving in the right direction, towards the Zone.
Some markings on the canvas are calling me to add some more dimension to their space.