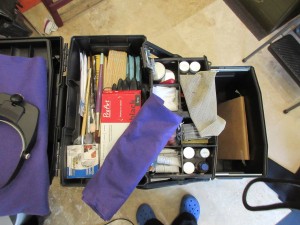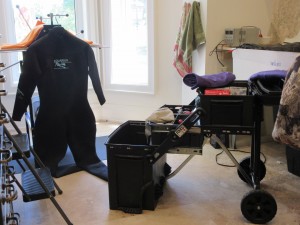 I am going to Las Palmas, Canary Islands, for an Artist Residency in Printmaking.
Alfonso Crujera, master printmaker and author of the book "Electro-Etching Handbook: a safe, non-toxic approach" (2013) has been my guide for the last 4 years while using electricity conducted through copper sulfate solution to etch copper plates in my studio. On June 11, I am leaving Toronto to take a 4 weeks workshop at Alfonso Crujera's studio. I will be learning direct from the master. It is very exciting!
My apartment will be next to the studio with an ocean view that promises creative and productive times. Preparation is crucial to make this residency successful. Of course, my first priority is to learn more about electro-etching. But, I am also looking for ways to combine multiple plates and explore interactions between photo-electro-etching and linocuts. I need to find new ways to add colors to my prints. To achieve my residency goals I have to get my materials ready to travel.
Fortunately, I found a tool box at Home Depot perfect to transport my inks, brushes, some plates, sand papers, grounds and other tools.
It is a bit heavy but I cannot compromise. Copper plates and papers are much  more expensive on the Canary Islands than in Canada as Alfonso told me.
These are the materials I have already packed:
Plates
Type                     Size                 Quantity
copper               9 x 12.5″                  01
copper               6 x 9.7″                    01
copper               6 x 9″                       04
zinc                    6 x 9″                       01
zinc                    4.5 x 6″                    05
solar Plate         9 x 12″                     01
Plexiglass          9 x 12″                      01
Papers
Hunehmuller                       30×22″ (19×22″)              06
Arches Hot Press                30×22″  (19×22″)            02
Arches Cold Press              30×22″  (19×22″)             03
BFK Cream-Cold Press     30×22″  (19×22″)             02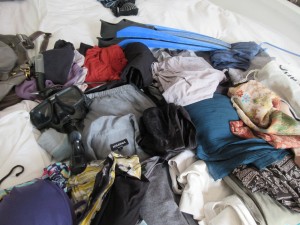 Others
01 roll of Puretch
01 pack of soda ash
Aqua Wash Charbonnel
01 Charbonnel Lamour Rebiting Ground Soft Black
10 1000 grit sandpaper
05 1500 grit sandpaper
05 2500 grit sandpaper
2 Brayers (small)
brushes
magnifying lens
The plates were carefully sandwiched on styrofoam sheets and taped in a way I can distribute the weight between the tool box and my suitcase. Papers are placed inside a light portfolio bag protected between thin foam boards in my suitcase.
There is no way I could go light. I prefer to carry an extra luggage instead of missing materials and tools essential to complete my work. I had the images and works on progress also ready to start working as soon as I arrive at Alfonso Crujera's studio. Adding to my To Do list are to test some cooking recipes, to go scuba diving and keep up with my daily exercise routine. I understand that maybe I am too ambitions but at least I am planning ahead and making the means to my reach goals available.
Hopefully, Alfonso Crujera will keep me in a productive mood and be able to rescue me from the dazed stupor certainly caused by the overwhelming Canary Islands' nature.