From Production Mode to Exhibition Mode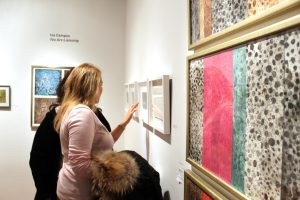 Printmaking is intriguing. Printmaking is very technical. In printmaking, the learning curve is steep. It took me a decade of dedication to build a body of works on paper that actually I am happy with.
Until now, I have been concentrated on making art and exhibiting collectively. I have not had the time neither the energy to focus on the logistics to show my work in solo, waiting for the right time and the right place.
It is quite a shift from the introspection required to art making to the extrovert mental attitude implied to exhibit my work.
"You are Listening" is an exhibition that invites the observer to look and listen in order to dialogue with the artwork. I am attracted to the idea of presenting a kind of "sensorial art" experience to the viewer. They are encouraged to explore further than just by looking at the art.. I like music to be part of the gallery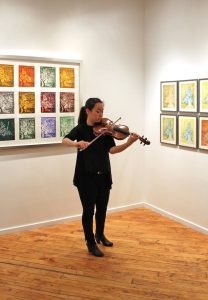 space.
The female violinist subject showed up by pure chance. I was taking photos around the University of Toronto campus where I spotted a woman entranced with her own violin playing. I felt transported by this entrancement. I blogged here how I feel in love with the image and then with the "violinists" as a theme. Since then, I have been working with the Violinists Series in a diverse range of media, such as printmaking, collages and paintings.
I am very grateful to violinist Gloria Yip for playing the contemplative music of Bach to enhance the gallery opening night experience.
Gloria Yip suggested this piece after looking at the artworks pointing out that "this entire piece is very sweet, the movements alternate between being quite solemn and melancholic to very active and dance-like. And they're all quite contemplative."
The resulted interplay of this Bach Violin Sonata No. 2 in A minor, BWV 1003 with my prints enhanced the gallery opening night experience. It was a memorable night surrounded by warm hugging friends and interesting conversations.