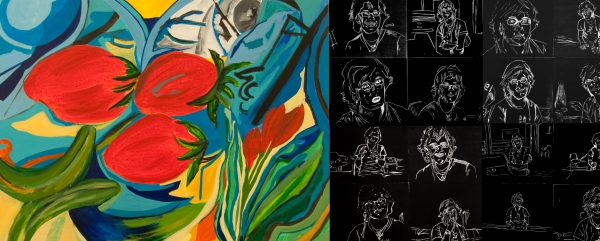 The diptych with my portraits of Claro Cosco was stolen from my studio last weekend. I am still mourning its loss as the composition included relief prints of sixteen plates and an acrylic on canvas. Losing a piece like this is like losing a beloved one. I don't know what happened to it; if it was stolen because it was liked or even if it was taken just to be destroyed, out of hate. Another large canvas, also unfinished was also stolen from the studio. These large pieces had to be transported in a pick-up truck, at least. This is quite an intriguing and mysterious event.
Fortunately, I have photos of the work and the relief plates to replace the stolen Claro Cosco's Portrait. Let's wait to see what the University of Toronto Campus Police can do about it. For sure, whoever stole the works must have had the studio's door panel password, would have been in there between Saturday, March 20 1:00 pm and Monday, March 22 10:00 am. Nobody could be walking around with canvases as large as 44 x 36 inches without being noticed.
As I already said it is time for grief and sadness due to the loss of these pieces as I got to have a close relationship with them and with what they identify.
Today, I showed for the first time my Identity Portrayed video containing the portraits of three young artists to Professor Kim Tomczak and my classmates at the Advanced Time Based Arts course. My proposal was to make a series of videos, prints, and paintings of young artists and explore the subject much further, trying to investigate the idea of newness through these young voices.