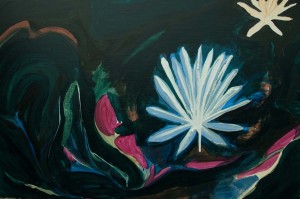 I am leaving Krumlov in a few hours. The Artist in Residence Program experience showed me that the 'residence' concept works both ways: outwards and inwards. The fact that you place yourself outside your spatial comfort zone sharper your senses, provides new stimulus. The unfamiliarity of the surrounds has a reflexive effect internally, thoughts and feelings become clearer.
I found here what I was looking for. And, as I see the body as the ultimate artist's residence, I leave here feeling that I am snail.
My art is 'in' me wherever I go, even in my dreams.
I carry a unfinished canvas, Self-Remembering, acrylic on canvas (90×60 cm) with me confident that tomorrow (or maybe the day after tomorrow) I will continue painting and that there are many blank canvas ahead where I can put my heart into them.