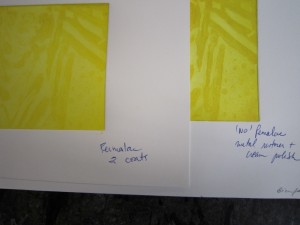 I am very happy to be back to Professor George Hawken's print studio at the University of  Toronto. The search for the bright saturated colours in the Intaglio prints continues now with the contribution of Claro Cosco, a young artist who I deeply admire.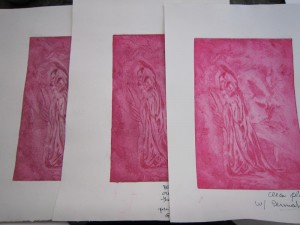 Working with colour has the power to brighten life particularly during these last cold days. The special care to prepare the cooper plate before coating it with ink pays off in results preserving the original pigment as it shows from my experiments with Permalac, Metal Restorer and Cream Polish. A super clean plate seems to be the key, not leaving aside the importance of also working with the pigments, as adding some 'white' to the yellow to make it more stable and prevent oxidation.
Soon, I will start editing the reds, blues and yellows. After the color reference swatches are organized and next step will be to explore the interactions of colours/inks with different papers, materials and light conditions.