Maybe it is really the technology that has changed our relationship with time. In particular, it affected the will to be available for sittings and so generously help an artist. I went through this agonizing experiment of trying to put my beloved family together to make our Family Portrait. At that time I had an expectation that I would be able to have my two boys and my husband sitting on our sofa and then have the time to make a painting of them. This did not happen. The timing was never right and I was not able (despite even trying to bribe them) to put the family together.
Although, I did manage to place each of them in the same space and sit on the same sofa. My older son had brought his laptop to MSN, placed his cellphone on his side and the television was also on. During the sittings, they all got very impatient and moved a lot, which partially explains the distorted results: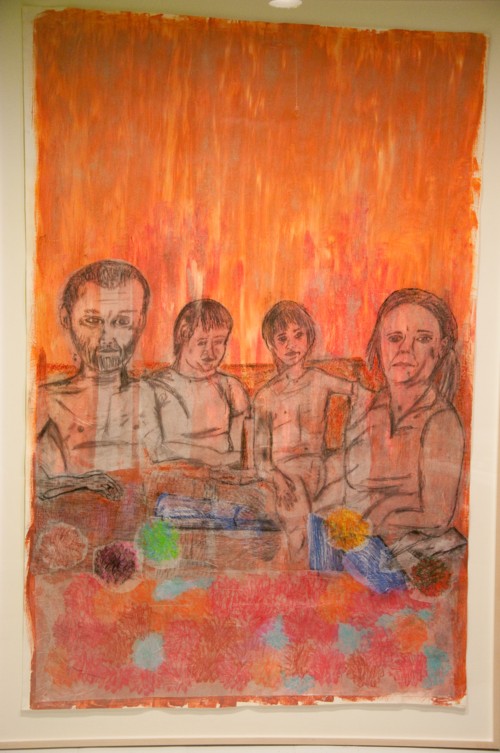 The making of my Family Portrait was an intense experience that made me realize that the idea of family unity is a mere construct, a spatial container placing people that are looking at different directions together. This freedom to have an individual identity and cultivate different interests creates interesting dynamics and defines what can be seen as the family of the digital times.
My inability to convince people to 'sit' for me also made me think about how I could reach the essence and the quality provided the sittings by some other means. Making of photographs alone does not satisfy me, it can lack in interaction. From my anthropology studies I have learned that participant observation, the act of contemplation has a power on its own (the Looking which is the essence of the visual arts). However, I also noticed that by applying other techniques, as mapping the space and using video interviews improves the chances of finding that particular quality in the subjects.
Then, I thought of combining other forms of information gathering: photographs, videotaping open interviews, documentation provided by the subjects and exchange of emails. By applying this systematic approach and making use of the available technology I hope to replace hours and hours of sittings and the exchange of gaze, the 'old times' access path to the magic and the other's subjectivities.